We saved two highlights for the last day of 2021. Check out our Top 2!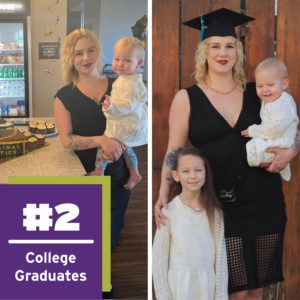 #2: We celebrated our second teen mom in program history to graduate with a 4-year bachelor's degree! Hannah completed her studies in Criminal Justice at the University of Colorado – Denver and already has a job as a Family Law Paralegal.
#1: Like last year's highlights, our teen mom speakers at the Gala again came in at the top. We are so amazed when our moms embody the courage and confidence to share their inspirational stories in front of hundreds of donors. Their drive to move forward with hope to build a stable future for themselves and their children is why we love moving the mission of Hope House forward too. Thank you, Maddie and Kate Joy (and many other moms who shared their stories at various events throughout the year), for allowing us the honor to hear your stories.