Check out our latest interview with Hope House Founder & Executive Director Lisa Steven. 
Some Hope House Questions: 
Q: What is one of your favorite memories from the first year of Hope House when it was officially established in 2003?  
"It was the very first day we moved into the house, before there was any furniture and before the first mom, Tiffany, was scheduled to arrive. We were cleaning cabinets and floors and the doorbell rang, which startled us since we'd never heard it ring before! There was a sweet woman on the doorstep from the church next door (remember, we were next to Grace Church on 69th & Sheridan before the house was donated and literally picked up and moved to its current location). She was carrying a vacuum cleaner and a coffee bean grinder, and she asked if we could use the donations. We were thrilled! We were positive that it was a sign from God that we should have a clean house and that we should always grind our own beans and have the best coffee, LOL😊!"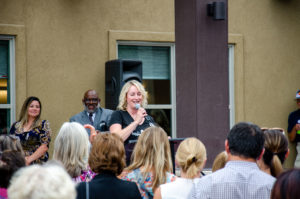 Q: What are some of the most rewarding parts of your role as founder & executive director at Hope House?  
"It is such an incredible gift to experience God through His work at Hope House! It is clear that God has had His hand on this ministry from the beginning. I get to watch Him perform miracles (like a surprise $5,000 check we didn't expect that arrived just in time to pay payroll back in the beginning). I get to watch Him work in the lives of our teen moms and staff in unexpected and amazing ways, and I get to watch our champions experience God through Hope House – I love that!"

 

"I absolutely love getting notes and messages from graduates who are now alumni in their late twenties and early thirties encouraging me and sharing how Hope House became their family; introduced them to God; met their need; brought them lifelong relationships with staff and other moms; and ultimately changed their life. It is so humbling to hear directly from our moms how much Hope House has impacted them and their children!"

 

"I truly love getting to spend time with our champions (we call our donors champions because they are champions of our teen moms!). From our elderly champion on a fixed income who has given $10 a month for 15 years to our capital campaign champions who gave six-figure gifts to build our Resource Center – ALL of our champions truly love our moms and believe that they can and will be successful in building stable lives for their children. Our champions are our family!"

 
Q: What are some of the first thoughts that come to your mind when you reflect on Hope House over the past 19 years?  
"Sometimes I just sit in the parking lot after everyone else has gone home and look at our amazing campus. I marvel at what God can do! He has built this special place so that our mamas have a place to belong – a place to be safe, seen, heard, valued and loved. How did we go from a tiny nonprofit founded by a former teen mom to this amazing campus serving 250 teen moms a year? It fills me with awe and humbles me to be a part of it all!"

 

"I am incredibly blessed to have built beautiful relationships with so many champions, volunteers and staff over the years. I have been mentored by amazing board members and businesspeople and have literally learned how to lead and run a business through them. Hope House would not exist without the tapestry of people God has woven together to lead and support the ministry through the years."

 

"I am so grateful that God called both John and I to be a part of this work together. My husband is pretty quiet and not an out-front leader like I am. However, he is the first person I seek for wisdom, guidance and encouragement. He often says he doesn't know why they still let him be on the board, LOL, but any board member will tell you that it's because he brings such a depth of wisdom and such a strong connection to our history. I honestly couldn't do it without him and feel so grateful that we have gotten to be on this journey together."

 
Q: What is one of your favorite features of the new Resource Center that was completed in 2019? 
"The laundry room! As a former teen mom, I can attest to the fact that sitting in an icky laundromat for hours with a toddler just plain stinks! I love that our moms have a clean space to do laundry while their kids play in the Mama Bear Cave. I also love that it gives our moms a perfect reason to come and "hang out." Most moms feel hesitant to come in unless they are going to class or studying for GED or college. The laundry room is a great reason to just come be here😊."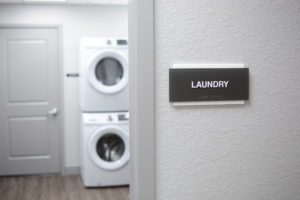 Q: How would you describe the work that you do at Hope House on a daily basis?  
"My calendar is different every day! I am never bored! I get to spend time with champions (this week I spent 30 minutes on the phone with one of our 90-year-old champions hearing stories of her childhood summers😊). I get to interact with the most amazing Leadership Team we have ever had at Hope House – it is a privilege to watch each of them lead their teams. I answer a lot of email, attend a lot of meetings and have finally come to terms with the fact that my to-do list will never actually be done by the end of the day. Mostly, I get to work on solving big problems and removing big barriers for our teen moms; I get to tell stories that move people's hearts and point them to Jesus; and I get to share our vision for seeing the lives of teen moms transformed all across the country, and maybe even the world!" 
Some 'Get To Know You' Questions:  
Q: What country have you always wanted to visit and why? 
"Germany! We haven't been to Europe yet, unless you count the countries in Walt Disney World. One year while we were visiting the biergarten at Epcot, my husband and I got into a bickering match about which one of us was more German that the other. We eventually had to call our parents from Florida to ask them what percentage of German each of us actually are. John says I lost the fight – he turned out to be more German than me – but my German ancestors are more recent than his, so I say it's a tie. Either way, we agreed that Germany would be the first real European country we would visit😊."  
Q: Favorite ice cream flavor and ice cream shop/brand?  
"Baskin Robbins chocolate peanut butter!" 
 Q: What do you like about the metro-Denver area? 
"I've lived here my whole life and I still feel awed by the view of our mountains, especially in late spring at about 6 p.m., when the light falls just perfectly and the mountains are a deep blue; the grass is that beautiful new green; and the trees and flowers are beginning to bud." 
______________________________________________________________________________________________________________________ 
Lisa Steven has more than 25 years of experience working with teen moms. In 2003, she co-founded Hope House Colorado and has served as the founder & executive director ever since. Under Lisa's leadership, Hope House has reached new levels and growth that, with a budget of over $2.6 million, puts the organization in the top 10 percent of nonprofits in the United States. Under her leadership, Hope House also received the Governor's Service Award for Outstanding Nonprofit Organization in Colorado in 2015 and was named the Arvada Nonprofit Organization of the Year in 2018. Lisa is also a co-founder of the Colorado Teen Parent Collaborative (TPC) and serves on the Board for the Arvada Chamber. In 2013, Lisa was named the Arvada Woman of the Year for her contributions to the community. Lisa co-authored the Teen MOPS Handbook and worked with MOPS International on their strategic plan for expanding the ministry of Teen MOPS. A former teen mom, Lisa is committed to empowering teen moms in her community and across the world.