Check out our latest interview with Hope House Director of Development Lisa Schlarbaum. 
Some Hope House Questions:
Q: How did you first hear about Hope House and how has your understanding of the mission evolved or grown since working here over 10 years now?
I heard about Hope House at Broomfield United Methodist Church. I have watched Hope House physically grow from my first office in the server room in the residential house to having the D team pod in the warehouse we had in Westminster and finally today being in the 3-year-old Resource Center at the Arvada Campus. During that same time the number of moms and programs has grown too. What has been really rewarding is seeing our moms go through the programs and see them come back in to touch base with us and see their big kids and know that they are thriving. It's been amazing to see what God can do when volunteers, staff and our champions come together. I love seeing our moms and children thrive after they have overcome big challenges with support from Hope House.
Q: How would you describe the work that you do at Hope House on a daily basis?
Every day I get to collaborate with a great team that is responsible for funding the needs of the organization. We are constantly looking forward and planning out how to get to our fundraising goals, telling authentic stories and engaging our Hope House champions and volunteers. I love connecting with our donors about what their impact is having on our moms' goals! The lives of two generations are really being changed here. 
Q: What are some of the most rewarding parts of your role as director of development at Hope House? List 2-4.
I get to see God in action up close at Hope House. We talk about our goals every Monday in our development team meeting and by the end of the week some of those goals that look impossible have happened. I watch the same thing happen every month! I love that some of our former moms are working at Hope House today! I have the pleasure of working with new Hope House affiliates on their fundraising strategies. It's exciting to watch Hope House expand outside of the metro-Denver area.
Q: What is one of the funniest moments you've experienced at Hope House?
I think every time we have a gong ringing at Hope House, it's hard not to laugh! Our first health department inspection of our new kitchen ended with the health inspector ringing the gong and handing me the paperwork. We had one of our moms get married here and it ended with the mom and her husband and son ringing the gong in unison!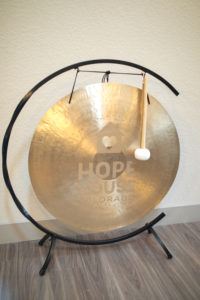 Q: What is one of your favorite features of the new Resource Center that was completed in 2019?
I was adamant that we have a commercial kitchen at the new Resource Center. I wanted us to have a kitchen with fresh food and for no mom to go hungry here. Sometime after we opened, we had a mom ask for a longer lunch break. You are going to eat here and if you want to take food home or a meal to make at home, we want that to be available too.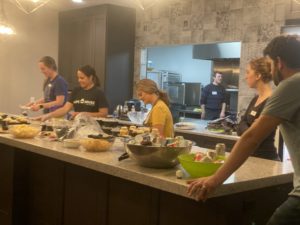 Some 'Get To Know You' Questions:
Q: What country have you always wanted to visit and why?
I love traveling! One of my favorite countries to visit was Switzerland; I can't wait to go back. My dad's family, the Wettsteins, are from Switzerland, and I got to spend time in Basel, visiting the Wettstein Bridge, Wettstein Park, Wettstein Hotel and statue of Johann Rudolf Wettstein. It was fun to feel famous that day!
Q: Favorite childhood memory? Please share in a few sentences.
Going to my grandparents' house was always a treat! They made me feel very special every single time I was there! Sitting on their back porch on their swing just talking to them was so special. I have great memories of all the amazing dinners, celebrations and holidays. Spending time in my grandfather's workshop was so fun! If only time travel was possible, I would love to go back!
Q: What do you like about the metro-Denver area?
What I love about the Denver area is there are so many things to do and see! It has a vibrant restaurant scene, people are nice and the sun shines every day! I grew up in the Midwest and don't miss the humidity or lingering snow. Every day is a good hair day in Denver!
______________________________________________________________________________________________________________________ 
Lisa Schlarbaum has been involved with Hope House for over a decade. Formerly a member of the Hope House Board of Directors, Lisa assumed the role of director of development in 2011, where she more than tripled the organization's budget from $700,000 to $2.6 million— while at the same time successfully leading a $5.4 million capital campaign for a new Resource Center. As part of the senior leadership team, Lisa sets growth strategy for organizational fundraising and built a six-figure operating reserve for the organization. In 2019, Lisa received National Philanthropy Day's Outstanding Professional Fundraiser Award for the state of Colorado. In 2020, Lisa has been nominated by Charity Navigator to be a Charity Navigator nonprofit advisor. This nomination allows her to use her leadership and expertise to strengthen the nonprofit sector through feedback and advisement. Lisa is passionate about helping other organizations and is a member of the Association of Fundraising Professionals (AFP) and formerly sat on the nonprofit advisory committee for Community First Foundation's Colorado Gives. With over 20 years of corporate sales experience, Lisa brings expertise in new client acquisition and client relationship development, and is very passionate about helping other nonprofits and Hope House affiliates succeed. Lisa has a Bachelor of Arts from Western Illinois University and a Master's in Business Administration from the University of Phoenix. Lisa currently lives in Broomfield with her husband Jeff. With a daughter who has finished college and a son attending college next year, they are soon to be empty nesters who plan to catch as many Opening Days for the MLB they can in the years ahead.